Grills & Pellet Kamados
Louisiana Grills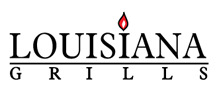 Ever wanted to make competition/restaurant quality food right in your backyard? Louisiana pellet grills lets you achieve that without the hassle of starting a fire, dealing with lighter fluid or babysitting the grill. Push button controls automatically light the fire and allow the operator to set the desired cooking temperature. Louisiana pellet grills provide the convenience and quick heat-up of gas grills but burn 100% pure hardwood. The quality of food cannot be reproduced on regular gas grills. Find out more about Louisiana Grills.
---
Green Mountain Grills

Green Mountain pellet grills simply make your food taste better. The reason? Your food is cooked over real wood instead of propane, which has no taste, or briquettes that lose their flavor molecules during the making process. Nothing could be easier than pushing a button, setting the temperature and letting your food cook. Green Mountain pellet grills let you "turn pro" in your own back yard. Find out more about Green Mountain Grills.
---
Black Olive Grills

Starting back in 1989 with wood-burning grills, Sherwood Industries, the manufacturer of the Black Olive brand of grills, has expanded its line of grills to use pellet and gas fuels. After decades of experience developing these grills, Sherwood Industries created the Black Olive line of Kamado-style grills. The Black Olive is perfect for slow roasting or searing due to its patented design and shape which gives it the ability to reach a wide range of temperatures. You won't every have to worry about over cooking or scorching your food again when you use a Black Olive pellet grill. Find out more about The Black Olive Pellet Grill.